Richmond Commercial Property Management
We pride ourselves on being Richmond's premier locally owned property management firm. Founded in 2007, we have built the systems and network to ensure that your real estate investments yield the highest rate of return possible. We specialize in the leasing and management of Mixed Use, Retail, Office, Flex and Large Multi-Family spaces. Dodson Commercial covers the cities of Richmond, Petersburg, Hopewell, Colonial Heights, as well as the counties of Hanover, Henrico, Chesterfield, Goochland and King William. Contact us today for a complimentary Comparative Market Analysis (CMA) and our estimate of a realistic market rate.
For more information about Dodson Commercial, and our property management services, please fill out the form to the right.

How Our Richmond Commercial Property Managers Can Help
Frequently Asked Questions
For information on our Commercial Property Management services please review the FAQs below.
Request a Free Quote!
804-218-8552
Q: What services are included when you lease and/or manage a property?
A: Our fee structure is typically broken down into three fees: a leasing fee, a management fee and a renewal fee.
Our leasing fee includes:
Assessing market rent amount
Coordinating the advertising for the property for rent
Showing property to potential tenants
Screening potential tenants
Procuring lease
Collecting security deposit
Performing move-in inspection
Coordinating routine maintenance issues while property is vacant (cleaning, lawn maintenance, etc.)
Our management fee includes:
Collecting rent
Notifying tenants with a pay or quit notice when they are late
Assessing and collecting late fees
Coordinating evictions
Receiving maintenance requests from tenants and dispatching professional, reliable, and fairly-priced subcontractors
Performing regular inspections as well as move-out inspections
Reconciling security deposits
Strategic long-term planning including recommendations for long-term maintenance issues, potential rent increases, etc.
Monthly and year-end financial reporting to make your year-end tax filing as simple as possible
Our renewal fee includes:
Reassessing market rent
Contacting owner to ask if they want to renew and advising owner on new rental amount
Reaching out to tenant to negotiate the renewal
Procuring a signed renewal letter or in some cases, a new lease
Q: In what areas do you manage properties?
A: We currently manage commercial and residential properties in the cities of Richmond, Petersburg, Hopewell, Colonial Heights, as well as the counties of Hanover, Henrico, Chesterfield, Goochland and King William.
Q: How do you advertise properties for rent?
A: We use a combination of paid and free sites, including: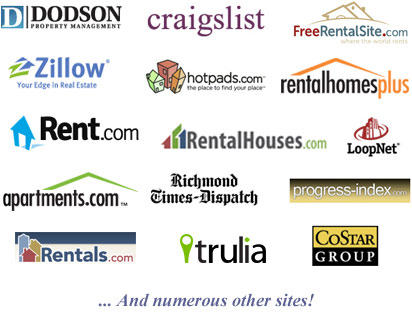 Q: How much do you charge to lease and manage a property?
A: Our pricing structure varies depending on the following factors:
Volume
Age & condition of building (expected maintenance issues)
Distance (from office, from other properties we manage)
Call today for a free quote!
Q: How do you screen tenants?
A: We screen tenants using the following methods:
Credit screening
Employment/Income verification
Rental history verification
Eviction History
Criminal background check
Q: What types of properties do you manage?
A: We manage single-family homes, multi-family dwellings, apartment complexes, office space, and retail space.